About Us
Welcome to the digital shop of Feather Graphics India Pvt. Ltd., we are a well-known name of the stickers, labels, membrane keypads and signs market. In a very short span of our business formation, our company has set milestones as a manufacturer, supplier and exporter of Custom Signs, Info Labels, Safety Signages, Warning Decals, Cricket Bat Stickers, Polycarbonate Stickers, Printed Vinyl Stickers, Weatherproof Polyester Stickers, Glow Sign Labels, Flexible Membrane Switches, Polyester Stickers Rolls, Aluminum Plates, Nightglow Signage, etc. These are made by our creative and experienced personnel using finest quality materials. Our company offers its entire range in various colors, designs, prints & sizes as well as customized forms. The stickers and labels we offer are widely appreciated for their smooth surface, tear resistance, catchy looks and splendid finishing. Moreover, we are growing in the domain due to our zeal to bring innovation, clarity in deals and strongly expanded shipment network.
Industries We Serve
Industrial automation
Fuel dispensing pump
Railway
Hospitality & leisure
Medical electronics
Industrial automation
Defense
Home appliance
Telecommunications
Scientific industry
Sports
Our Workforce
To have high professionalism in completion of all the business activities, we have appointed a specialist workforce. The hired 50 members team of our company includes masters of several fields, working together with the common goal to attain highest level of clients specifications. Our designers and production experts work in sync to offer eye-grabbing stickers, labels and signs to the clients. Each piece of the range is offered to customers after passing out the conducted strict quality exams. Further, we regularly conduct several seminars and training sessions to help personnel in staying updated with the market dynamics.
Products Portfolio
We are known for manufacturing, supplying and exporting below cited products:-
Stickers

Bat Stickers
Clear Polyester Stickers
Cricket Bat Stickers
Gloss Polyester Stickers
Glow Sign Stickers
Keypad Membrane Stickers
PE Bumper Stickers
Polycarbonate Stickers
Polyester Label Stickers
Polyester Stickers
Printed Polyester Stickers
Printed Vinyl Stickers
PU Dome Stickers
PVC Cricket Bat Stickers
Vinyl Stickers
Weatherproof Polyester Stickers

Membrane Keypads

Flexible Membrane Keypads
Tactile Membrane Keypads
Membrane Keypads With PCB
Custom Membrane Keypads
Membrane Switches-Keypads

Labels

PU Dome Labels
Glow Sign Labels

Flexible Membrane Keyboards
Flexible Membrane Switches
Soft Membrane Keyboards
Polyester Stickers Rolls
Digital Glow Signs
Aluminum Plates
Nightglow Signages
Manufacturing Facility
Investing heavy sum of money, our company has constituted a modern manufacturing cell. Its wide space is armed with latest machines, tools and equipment that aid in speedy production of the range. To retain the high production rate, we make sure to periodically oil and upgrade the facilities of our production cell. Moreover, our company has hired experienced personnel for looking after & managing all the activities of manufacturing wing.
Quality Assurance
Our company is a quality-focused unit, which makes sure that clients get value for money experience from us. We are following a quality control plan as per which using A grade raw inputs, our product-line Tactile Membrane Keypads, Flexible Membrane Switches, Polyester Stickers Rolls, PE Bumper Stickers, Printed Polyester Stickers, Printed Vinyl Stickers, PVC Cricket Bat Stickers, PU Dome Labels, Glow Sign Labels, etc. The experienced quality inspectors keep an eye on all the production stages, they also evaluate every piece of the range to ensure perfection, before allowing the range for dispatch. Our stickers are examined on the grounds of its tear & moisture resistance, finishing, looks, smooth surface, etc.
Golden Image Awards 2016 -Decals/ Labels/ Stickers & 2016 Membrane Switch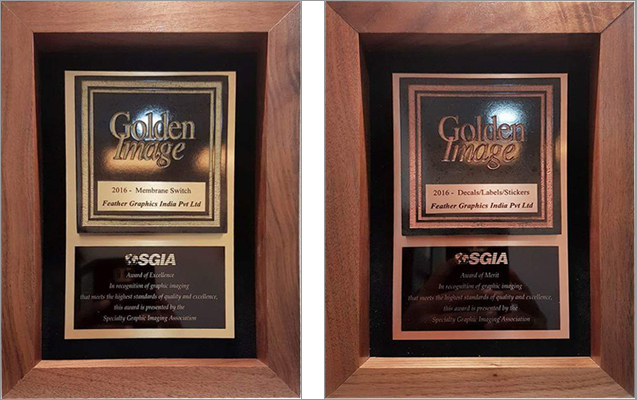 Read More